Cargo. The extra large booths, designed for any vehicle. They can accomodate trucks, trains, underground carriages, civil or military aeroplanes, ships and even wind turbines.
Not only are they sturdy, but also reliable, providing the highest performances and safety for operators. Simply program painting requirements, USI italia engineers will think about the rest with their design department, where they can simulate and 3d test the final version.
Once you choose the booth size that works for you, you will then need to understand which functioning mode is best for your needs and company. We have three options available at the moment - the Master spirit, the Energo spirit and the Chronotech spirit.
What are you waiting for? Call us now and tell us about your requirements. We will immediately come up with a new and unexpected solution that you may not have even known existed.
Benefits
Not all motors and fans are the same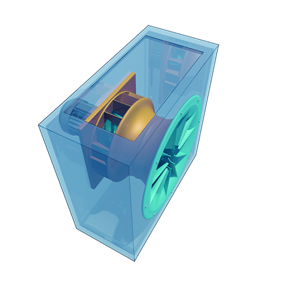 Usi italia does not save money on quality or reliability. All usi italia motors have the highest energy efficiency and most of our products have been equipped with combined high-efficiency motors and inverters for years. This leads to a reduction of consumption up to 60% than traditional installations.
Another thing to bear in mind when investing in a booth is ventilation: usi italia installs only reverse-blade industrial turbines coupled directly to the motor.
In addition to contributing to motor efficiency, the lack of transmission equipment (such as belts, tensioners and pulleys) means there is no need for the maintenance times usually needed by all transmission ventilation systems.
The great distance between the blades means they can be cleaned easily in case of extraordinary maintenance operations. But that is not all - the usi italia high pressure ventilation system enables you to work with constant air capacities even if filters are dirty, so there is no need to install additional air inlet systems for the flash periods.
If you want fans that can last through a marathon, with us you can run 42 km uphill. The others can only run on flat ground.
Clean, flexible and state-of-the-art technology
Our booths can be combined with different heating systems - combustion chamber, electric batteries and water coils. Our favourite, though, remains the direct-fired system for a few simple reasons:
Gas has a very low environmental impact.
By 2035, gas will be the most required fuel at a global level.
Usi italia's natural gas or gpl air blue 2.0 air vein burners are tested and certified directly on our productive site.
Their combustion efficiency is above 97%, they reach the baking temperature in less than 4 minutes and reduce fuel consumption by 30% with respect to traditional combustion chamber burners.
With air blue 2.0, you can obtain a better stability of the set temperature.
With the airblue 2.0 system, you can increase productivity by up to 55%.
With airblue 2.0, the painting/baking time is reduced by 35%.
What inverters are for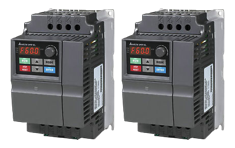 Nowadays, many talk about energy efficiency, but few explain what it really means to use clean energy technology in spray plants. In the industry, around 70-80% of electrical energy consumption is caused by electrical motors.
There are three ways of reducing consumption caused by electrical motors:
Reducing energy dispersion in power transmission
Increasing motor efficiency
Improving its functioning
The best way to improve functioning is to change the number of revolutions according to the different applications, thus avoiding running the motor at maximum power when it is not required.
In fact, not all working phases need to run with the maximum airflow.
With our exclusive inverter management software, you can associate the correct airflow for each phase thus reducing consumption.
Inverters also reduce maintenance costs and noise levels and correct the load to a cos φ level near to 1 (typically 0.98), thus improving energy efficiency.
Open Sesame!
Do not worry. You will not have to use magic words with our cargo plants. You will only have to choose which door is best for your needs:
Sectional: electrically operated, usually used at the entrance (or exit in case of tunnel configurations) of plants. Easy to assemble and currently the most popular solution.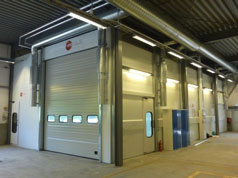 Roller electrically operated, usually used as intermediate doors between stages. Alternatively, they can also be used for entrances (or exits in case of tunnel configurations). Please note that the housing carter may be bulky so be careful about the measurements.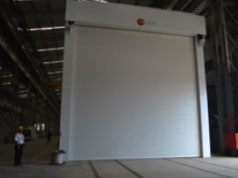 Sliding with split opening: manually operated, usually used at the entrance (or exit in case of tunnel configurations) of plants. Excavation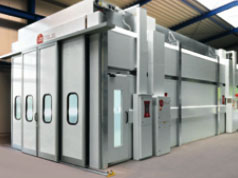 With 180° opening: manually operated, usually used at the entrance (or exit in case of tunnel configurations) of plants. No excavation operation needed.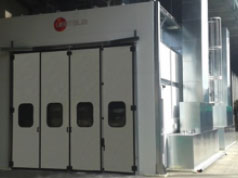 Higher and Higher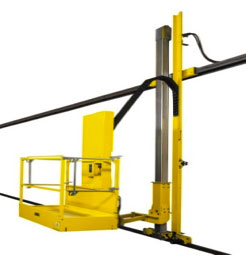 We have excellent solutions that use mobile platforms to improve safety, productivity and the quality of work.
Our platforms enable you to move easily and safely along all three axes (x,y,z) and can be defined as deadman moving machines.
This means they are operated by the operator on the platform.
They replace ladders and scaffolding and improve the quality and efficiency of painting or treatment work.
The work environment is therefore improved and obstacle-free.
Platforms can be hydraulically or pneumatically operated.
As usual, it is important that you provide us with information concerning the size of the vehicles to paint and the height you wish to reach.