Master is a modern spray booth suitable for all kinds of bodyworks. If you are looking for superior and reliable performances that guarantee the maximum resistance, reliability and ease of use, it is the perfect booth.
Though you may not know it, thanks to the renowned USI Italia industrial turbines - which are coupled directly to the motors - the Master spray booth can generate incredible air volumes: in fact working best with water-based paint.
The Master booth has a variety of configurations and accessories and, if you choose the exclusive air blue clean technology, you will reduce harmful emissions, increase productivity and reduce baking times by 30%.
Want to to learn more? Send an e-mail to sales@usiuk.com or fill in the form below - USI staff will contact you to assist you and, should you wish, figure out the most suitable option for your needs.
Master. The maximum expression designed for painting masters and capable of satisfying all painting needs: from traditional to new types of paint.
Benefits
A strong design against contamination
Double-wall insulation, perfect seal
High-temperature powder-coated panels with double-wall insulation for a classy aesthetic finish and the perfect adherence against contamination. The panels also enable to reduce noise levels and keep the heat inside the booth.
Easy to install for unaltered value
The exclusive usi assembly system uses male/female joints and is ideal for easy installation: no need for screws, bolts, joint covers or welding operations. This also means that, should you decide to move to a bigger place or sell the booth, assembly and disassembly will not pose a problem. Our system was studied to be long lasting and retain its value.
Not all motors and fans are the same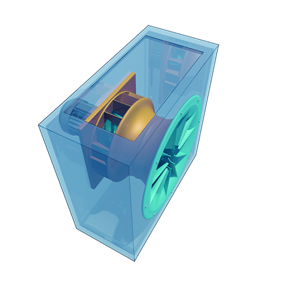 Usi italia does not save money on quality or reliability. All usi italia motors have the highest energy efficiency and most of our products have been equipped with combined high-efficiency motors and inverters for years. This leads to a reduction of consumption up to 60% than traditional installations.
Another thing to bear in mind when investing in a booth is ventilation: usi italia installs only reverse-blade industrial turbines coupled directly to the motor.
In addition to contributing to motor efficiency, the lack of transmission equipment (such as belts, tensioners and pulleys) means there is no need for the maintenance times usually needed by all transmission ventilation systems.
The great distance between the blades means they can be cleaned easily in case of extraordinary maintenance operations. But that is not all - the usi italia high pressure ventilation system enables you to work with constant air capacities even if filters are dirty, so there is no need to install additional air inlet systems for the flash periods.
If you want fans that can last through a marathon, with us you can run 42 km uphill. The others can only run on flat ground.
Clean, flexible and state-of-the-art technology
Our booths can be combined with different heating systems - combustion chamber, electric batteries and water coils. Our favourite, though, remains the direct-fired system for a few simple reasons:
Gas has a very low environmental impact.
By 2035, gas will be the most required fuel at a global level.
Usi italia's natural gas or gpl air blue 2.0 air vein burners are tested and certified directly on our productive site.
Their combustion efficiency is above 97%, they reach the baking temperature in less than 4 minutes and reduce fuel consumption by 30% with respect to traditional combustion chamber burners.
With air blue 2.0, you can obtain a better stability of the set temperature.
With the airblue 2.0 system, you can increase productivity by up to 55%.
With airblue 2.0, the painting/baking time is reduced by 35%.
Lighting without compromises
Large-area reflectors with xl fluorescent tubes prevent the formation of glare and shadows providing homogeneous light without altering the colour.
The combined use of high-efficiency fluorescent tubes and electronic ballasts reduces electrical consumption to a minimum (around 30% less than traditional systems).

Upon request, we can also install high-efficiency systems with a dimmable function tested by usi italia technicians in cooperation with the leading specialists in new lighting systems.